For Professionals
For information on joining this Estate Planning Council, please reference the "Application Form" page of this website or visit the "Contact Us" page.
---

Regular Columns and Reports
Editor's Note: Forget "Must Love Dogs" - Go with "Must Love DSUE"
Features​
Crowdsource Funding to Help Victims of the Las Vegas Massacre
A First Look at Congress' Tax Reform Blueprint - What Advisors Need to Know Now to Better Inform Their Clients
Innovative Trust Designs Better Serve Inheritors
Planning in Uncertain Times - Part III
Balancing Collaboration With the Attorney-Client Privilege
Checklist: Annual Review
Complacency. Motivation. Retention.
High Performance Organizational Teams
Reviewing a Life Insurance Policy: The Owner As Pilot
Built-in Gain Tax Liability: Defend Yourselves!
Proposed Regulations Under Code §2704 Finally Die
Fees for Life Insurance Consulting? Why Would I Do That?
News Nook: A Compendium of Current Affairs
The NAEPC Journal of Estate & Tax Planning Tax Update
Tax Topics - September: "Unified Framework for Fixing Our Broken Tax Code" & August: Possible "Extenders" Bill if Tax Reform Doesn't Pass
Practical Planner Newsletter
NAEPC Monthly Technical Newsletter
Read the complete Journal issue.
---
NAEPC Webinars
Please join us for one of the upcoming events in the the Robert G. Alexander Webinar Series:
See complete information about all webinars and the opportunity to view past webinars.
---
54th Annual NAEPC Advanced Estate Planning Strategies Conference with Pre-Conference Sessions for Estate Planning Council Leaders
November 15 - 17, 2016
New Orleans, Louisiana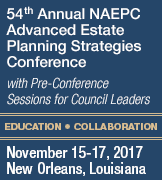 The NAEPC Advanced Estate Planning Strategies Conference is open to all estate planning professionals and provides:
Multi-disciplinary content provided by nationally-known presenters
Continuing education credit (up to 15 hours)
Networking with estate planners from around the country in a collegiate environment
The program includes one day for leaders of estate planning councils (Council Leadership Day, Wednesday, November 15th) and two full days of continuing education for every estate planning professional and discipline (Thursday, November 16th & Friday, November 17th)
See full program information, including the entire list of speakers and online registration.
---
Accredited Estate Planner® Designation Information
How can you gain a "leg-up" on your competition in your estate planning practice? Obtain the Accredited Estate Planner® (AEP®) designation. Professional estate planners can achieve a nationally-recognized, graduate level accreditation that acknowledges their experience and specialization in estate planning. The AEP® designation is available to attorneys, Chartered Life Underwriters, Certified Public Accountants, Certified Trust and Financial Advisors, Chartered Financial Consultants, and Certified Financial Planners® and is awarded to professionals who meet stringent experience and education qualifications. The educational requirements can be met through graduate level coursework offered by The American College and other accredited colleges, universities and schools of law. To see a complete list of qualifications and to download an application, visit our website at http://www.naepc.org/designations/estate-planners.
Join the growing group of professionals who recognize the value of holding the premier estate planning professional designation. Become an Accredited Estate Planner® designee.
---
Estate Planning Law Specialist Designation Information
The Estate Planning Law Specialist (EPLS) designation is available to attorneys and is administered by the Estate Law Specialist Board, Inc., an attorney-run subsidiary of the National Association of Estate Planners & Councils. Attorneys who become board-certified under this program demonstrate a high level of professionalism and commitment to the concept of specialization. This program is currently the only program, other than certain state bar association programs which are only for residents of their particular states, accredited by the American Bar Association to Board-certify attorneys as Estate Planning Law Specialists. Many states permit lawyers to hold themselves out as specialists if their certification is awarded by an ABA-accredited program. Each lawyer, however, must consult the rules in his or her own state to determine how such a designation can be presented to the public. To see a complete list of qualifications and to download an application, visit our website at http://www.naepc.org/designations/estate-law/introduction.