The Baltimore Estate Planning Council is an interdisciplinary non-profit organization for professionals involved in estate planning. For more than 83 years and currently 300 members strong, the Council strives to foster understanding of the proper relationship between the functions of the Trust Officer, Attorney, Qualified Financial Advisor, Philanthropic Professional, Accountant, and any other party or parties having to do with estate planning, and to encourage co-operation of persons acting under those disciplines.
BEPC COVID-19 NEW UPDATES
Remote Witnessing of Wills, POAs and AMDs is now Authorized under the State of Maryland
On Friday, April 10, 2020, in an effort to prevent the spread of COVID-19, Governor Hogan issued an Executive Order authorizing the remote witnessing of Wills, Financial Powers of Attorney (POAs) and Advance Medical Directives (AMDs). The is an emergency order which temporarily suspends certain In-Person Witnessing requirements. Under the order, the Signer and two witnesses and a Supervising Attorney must be in the physical or Electronic presence of each other. The Supervising Attorney may not serve as one of the witnesses and is responsible for creating a certified original of the document. Here is a link to the order detailing the requirements: https://governor.maryland.gov/wp-content/uploads/2020/04/Remote-Witnessing-4.10.20.pdf.
Please keep in mind that under MD law POAs must also be notarized. The requirements for remote notarizations, which went into effect on March 30th, differ from remote witnessing. At this time, attorneys must abide by both orders for a POA to be compliant with the law. Below is the link for remote notarization: https://sos.maryland.gov/Documents/EOAuthorizingRemoteNotarization.pdf
This is a huge step in the right direction towards keeping both us and our clients safe during these uncertain times.
The BEPC thanks Governor Hogan for enacting this unprecedented order and the efforts of Senator Chris West for advocating on behalf of all Marylanders.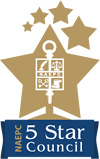 The Baltimore Estate Planning Council has been named a
2019 "5 Star" Council awarded by the Board of Directors of the National Association of Estate Planners & Councils.
Congratulations to all of our Council members!

**************************************
Please welcome our newest
Baltimore Estate Planning Council Members
Mia Antonelli - Trust Officer
Brian Bass - Financial Advisor
Tandilyn Cain - CPA
Stephanie Dain - Financial Advisor
Miranda Dover - Trust Officer
Megan Easter - Attorney
Randall Harris - Valuation Professional
Yale Hoffberg - Financial Advisor
Christopher Hovell - Trust Officer
Zachary Hubbard - Financial Advisor
Carrie Jarmer - Financial Advisor
Brian Jarosinski - Financial Advisor
Shlomo Kanner - Attorney
Cristin Lambros - Attorney
Ryan Levy - CPA
Jessica Lopez - CPA
Sandra Loys - Financial Advisor
Mary Makowske - Financial Advisor
Taylor Marino - Financial Advisor
Carlos Rodriguez - Trust Officer
Sarah Santeufemio - Financial Advisor
Patrick Scherer - Financial Advisor
Jason Tawney - Financial Advisor
Nancy Thomas - Financial Advisor
Nicholas Valerino - Financial Advisor
Christopher Walter - Attorney
Shaun Weber - Financial Advisor
Zellie Wothers - Financial Advisor
Adam Zarren - Attorney
**************************************
If you are interested in supporting the Baltimore Estate Planning Council,
please see sponsorship opportunities.


New: Exclusive benefit for members only!
Members of the Baltimore Estate Planning Council can now get pre-paid access to Leimberg Information Services (LISI), a monthly subscription service providing financial service professionals fast, frank, and incisive analysis of proposed and recent legislation, regulations, cases, and rulings by experts. LISI is also home to a very powerful engine that will help subscribers create customized searches and past and future cases more easily and quickly than ever before possible. Access Leimberg Information Services now.
---
Baltimore Estate Planning Council is affiliated with the National Association of Estate Planners & Councils and joining can fulfill the requirement of belonging to an affiliated local estate planning council to become an Accredited Estate Planner® (AEP®) designee. Please contact the national office at 866-226-2224 to learn more about the Accredited Estate Planner® designation.