The Baltimore Estate Planning Council is an interdisciplinary non-profit organization for professionals involved in estate planning. For more than 83 years and currently 300 members strong, the Council strives to foster understanding of the proper relationship between the functions of the Trust Officer, Attorney, Qualified Financial Advisor, Philanthropic Professional, Accountant, and any other party or parties having to do with estate planning, and to encourage co-operation of persons acting under those disciplines.
BEPC COVID-19 (Message from Council President)
Dear Council Members and Friends,
I hope this message finds you well.
Given the rapid developments with regards to the COVID-19 virus and the measures enacted by Maryland to mitigate and limit the spread of the virus, the Baltimore Estate Planning Council Board of Directors has made the following decisions:
· Reschedule the Special Event at DeJon Winery to the Fall of 2020
· Cancel the April 8th NAEPC Webinar Viewing Party
· Cancel the May 5th Breakfast Program at Woodholme Country Club
The Board will continue to monitor the outbreak and any subsequent decisions regarding upcoming events such as the May NAEPC Webinar Viewing Party on May 13th, the Emerging Planner's Social on May 13th and the Annual Meeting on June 18th will be made consistent with guidance received from State, Local or County Authorities. I will continue to share updates with you as quickly and transparently as possible.
Thank you for your understanding and I wish everyone to stay safe!
Sincerely,
Charles B. Jones, Esq., LL.M., MAS, AEP®
President
Baltimore Estate Planning Council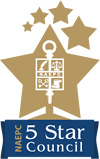 The Baltimore Estate Planning Council has been named a
2019 "5 Star" Council awarded by the Board of Directors of the National Association of Estate Planners & Councils.
Congratulations to all of our Council members!

**************************************
Please welcome our newest
Baltimore Estate Planning Council Members
Mia Antonelli - Trust Officer
Tandilyn Cain - CPA
Stephanie Dain - Financial Advisor
Miranda Dover - Trust Officer
Megan Easter - Attorney
Yale Hoffberg - Financial Advisor
Christopher Hovell - Trust Officer
Zachary Hubbard - Financial Advisor
Shlomo Kanner - Attorney
Carrie Jarmer - Financial Advisor
Brian Jarosinski - Financial Advisor
Cristin Lambros - Attorney
Ryan Levy - CPA
Sandra Loys - Financial Advisor
Mary Makowske - Financial Advisor
Taylor Marino - Financial Advisor
Carlos Rodriguez - Trust Officer
Sarah Santeufemio - Financial Advisor
Patrick Scherer - Financial Advisor
Jason Tawney - Financial Advisor
Nancy Thomas - Financial Advisor
Nicholas Valerino - Financial Advisor
Christopher Walter - Attorney
Shaun Weber - Financial Advisor
Zellie Wothers - Financial Advisor
Adam Zarren - Attorney
**************************************
If you are interested in supporting the Baltimore Estate Planning Council,
please see sponsorship opportunities.


New: Exclusive benefit for members only!
Members of the Baltimore Estate Planning Council can now get pre-paid access to Leimberg Information Services (LISI), a monthly subscription service providing financial service professionals fast, frank, and incisive analysis of proposed and recent legislation, regulations, cases, and rulings by experts. LISI is also home to a very powerful engine that will help subscribers create customized searches and past and future cases more easily and quickly than ever before possible. Access Leimberg Information Services now.
---
Baltimore Estate Planning Council is affiliated with the National Association of Estate Planners & Councils and joining can fulfill the requirement of belonging to an affiliated local estate planning council to become an Accredited Estate Planner® (AEP®) designee. Please contact the national office at 866-226-2224 to learn more about the Accredited Estate Planner® designation.